By: Alan Millard
In his piece for ANE Today, Douglas Petrovich claims some of the thirty or so inscriptions engraved on stone monuments around the Egyptian turquoise mines at Serâbîṭ el-Khâdim in western Sinai mention biblical figures. The following comments refer only to what he has written there.
In 1916 the Egyptologist Alan Gardiner deduced the signs belonged to an early form of the alphabet. The letters, he said, were 'clearly modeled on Egyptian hieroglyphs' (not 'consisted of a number of middle Egyptian hieroglyphs'), each used acrophonically, as Petrovich explains. It is essential to be aware that almost every one of these Proto-Sinaitic inscriptions is broken or damaged, making the identification of signs and any attempt at translation tentative at best.
The summary Petrovich gives of his work offers little that can support his assertions. He declares that he came to believe that Hebrew is the language 'behind the proto-consonantal script ... by weighing the options systematically and allowing the context of various inscriptions to determine which option is correct', without further explanation.
A glance at his Figure 6 shows how dubious his process is. In that text, Sinai 375a, the writing seems to run from the right edge of the stone around the top and down the left side, with some letters below the first few. Petrovich finds the biblical name Ahisamach by reading the first three letters from right to left, then the three below them. Other letters stand in a vertical column with a couple of hieroglyphs among them. The arrangement is odd! No words are cited to prove the texts are in Hebrew. In fact, Hebrew and Canaanite written in consonantal script may be indistinguishable.
Inscribing the stele Sinai 115, we are told, the official responsible 'added a mostly hieroglyphic caption that includes one Canaanite syllabic (or 'syllable') and one proto-consonantal letter', which means the text contained three forms of writing mixed together! The term 'Canaanite syllabic letter' is contradictory, for the sign would either be a syllable, such as ba, gu, or a letter, such as b, g. The terms 'proto-consonantal script' and 'proto-consonantal letter' are also meaningless, for a consonant is not a letter but a sound; a 'proto-consonant' would be, if anything, the origin of a consonant.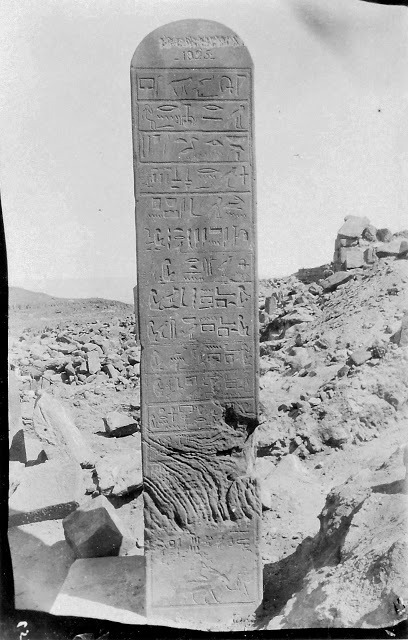 One statement is ill-informed: 'The number of original alphabetic letters is 22, which conflict with the long-held conjecture that originally there were 27 letters, probably the result of incorrect extrapolation back from Ugaritic, a Semitic language with more than 22 consonants'. This displays ignorance of the study of Semitic languages from the 19th century onwards. That Hebrew reduced the number of consonants written was demonstrated through analysis of all then-known Semitic languages well before Ugaritic was discovered. The discovery of Ugaritic and further study of Babylonian dialects and Egyptian writings of West Semitic names supports it.
Petrovitch's blog does not offer any grounds for accepting his ideas. Many scholars have written about the Proto-Sinaitic inscriptions, some examining the originals themselves, none agreeing completely on their decipherment, for anyone to present such astonishing claims for his research to the general public in a book as Petrovitch has done, seems irresponsible. His work should be submitted to rigorous scholarly examination first, lest it prove as misleading as some other attempts to read the Proto-Sinaitic texts. If it meets approval, then is the time to publicize it.
It is no pleasure to write a negative review; many years of reading ancient inscriptions inculcates a skepticism about translations presented as facts which carry far-reaching implications – the initial announcements about the tablets from Ebla in which Biblical places were allegedly found - are a warning example.
Alan Millard is Rankin Professor Emeritus of Hebrew and Ancient Semitic languages, and Honorary Senior Fellow, at the School of Archaeology, Classics and Egyptology in the University of Liverpool.
~~~
All content provided on this blog is for informational purposes only. The American Schools of Oriental Research (ASOR) makes no representations as to the accuracy or completeness of any information on this blog or found by following any link on this blog. ASOR will not be liable for any errors or omissions in this information. ASOR will not be liable for any losses, injuries, or damages from the display or use of this information. The opinions expressed by Bloggers and those providing comments are theirs alone, and do not reflect the opinions of ASOR or any employee thereof.